Discussion Starter
·
#1
·
Hello,
I'm the happy owner of a 2006/2007 Santa Fe 2, V6 auto.
The car works fine so far.
I just have a "little" problem with the radio, which doesn't make any sound. I put it at the dealer to solve this problem, and solve also the courtesy light not working when openeing the doors.
I had my car back Friday afternoon. The dealer told me the previous owner did completely destroy the audio harness and that they had to restore it: $100...
So I took my car, and the radio does swich on, illuminates, but... not a sound.
Suspecting something wrong, I took the head unit out and found this: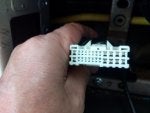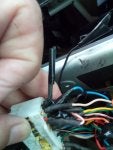 This is what they call a harness restoration. Needless to say that mi visit to the dealer tomorrow will be funny.
That being said, I will certainly do better restoring myself the harness, but I need the wiring diagram of the connector. Any of you does have that to share?
Thank you in advance.